KAREN HARVEY - CPA, CGA, BROKER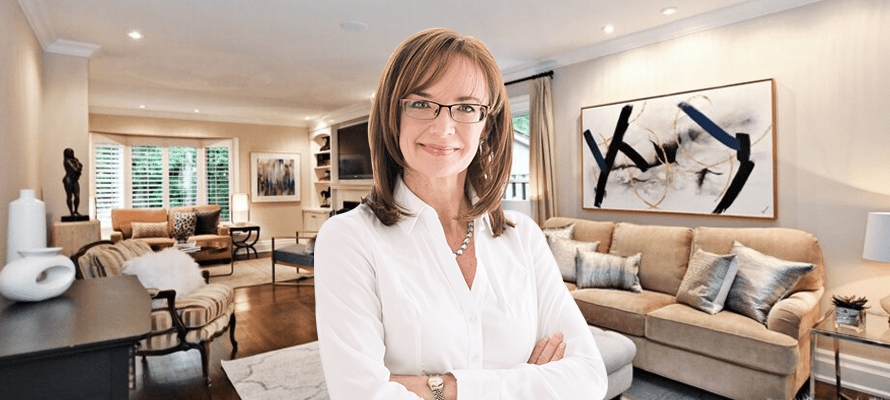 Karen's impressive career started in finance and marketing with industry leaders Apple, Nortel and Parke-Davis (now Pfizer). Her entrepreneurial skills as a franchise owner took a small licensed home childcare business she purchased in 1997, and grew it to daily enrollment of over 150 children & 47 Provider homes before selling in 2004. For four years Karen traveled all across Ontario advising other franchisees how to effectively manage and grow their businesses.
OUTSTANDING ACHIEVEMENT
1st, 2nd, 3rd, and 4th Quarters – 2020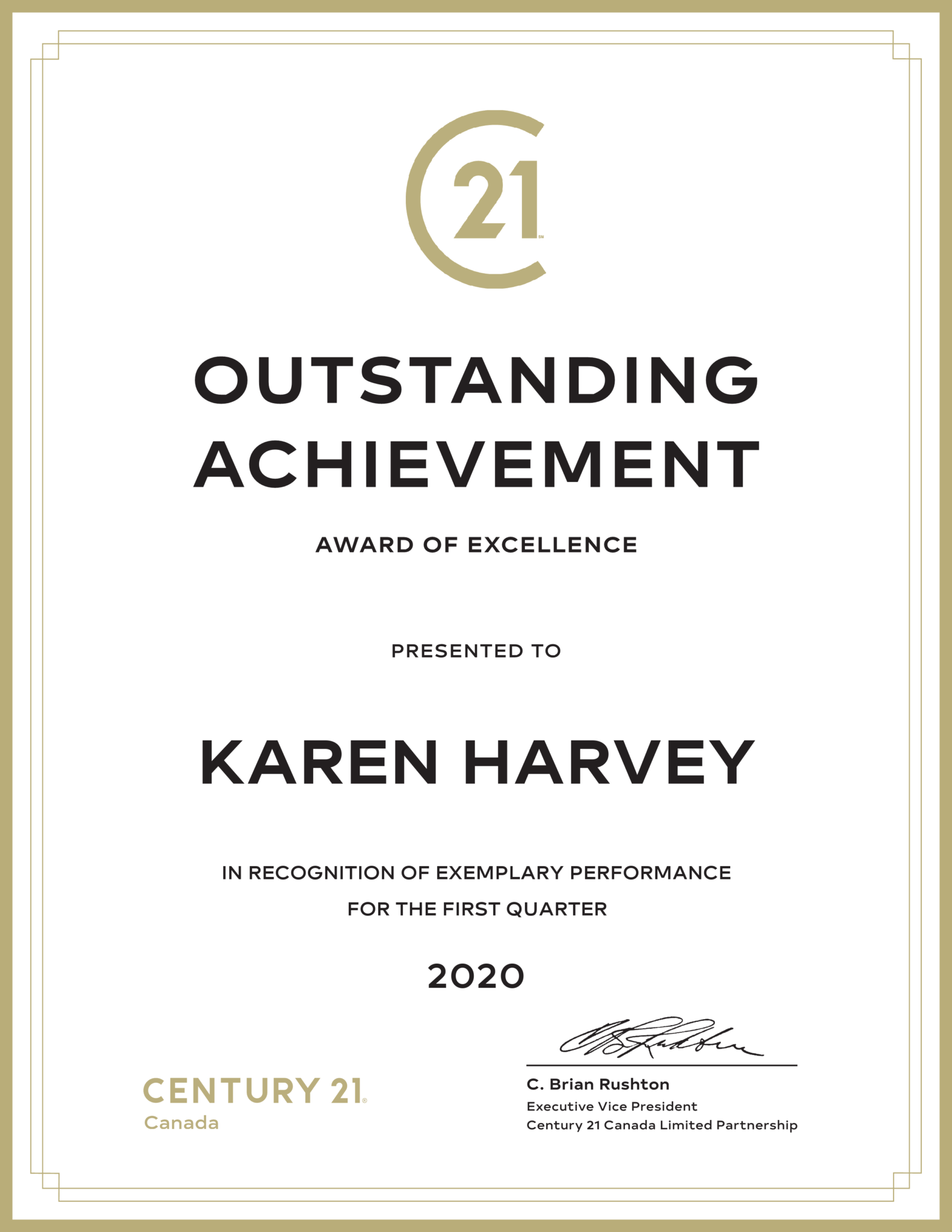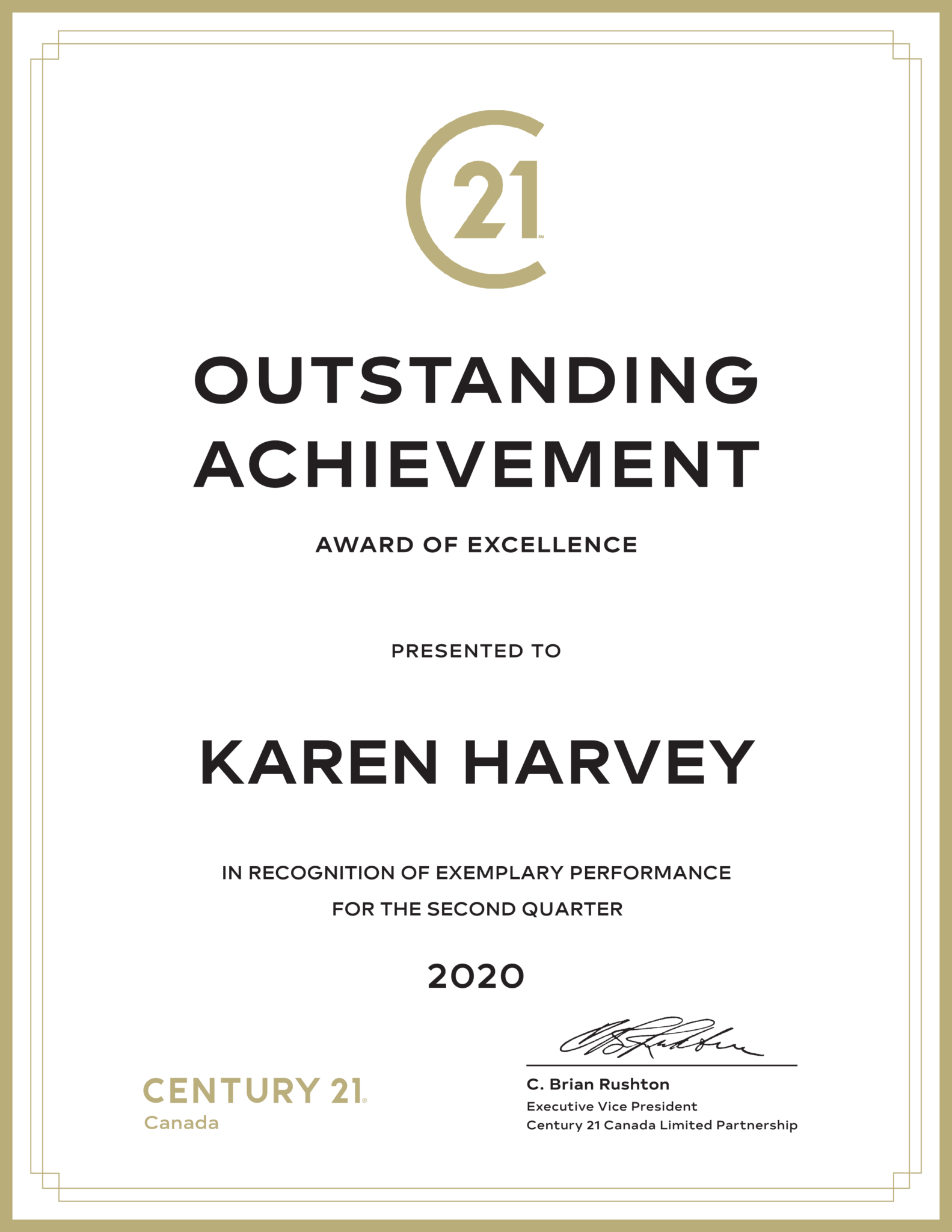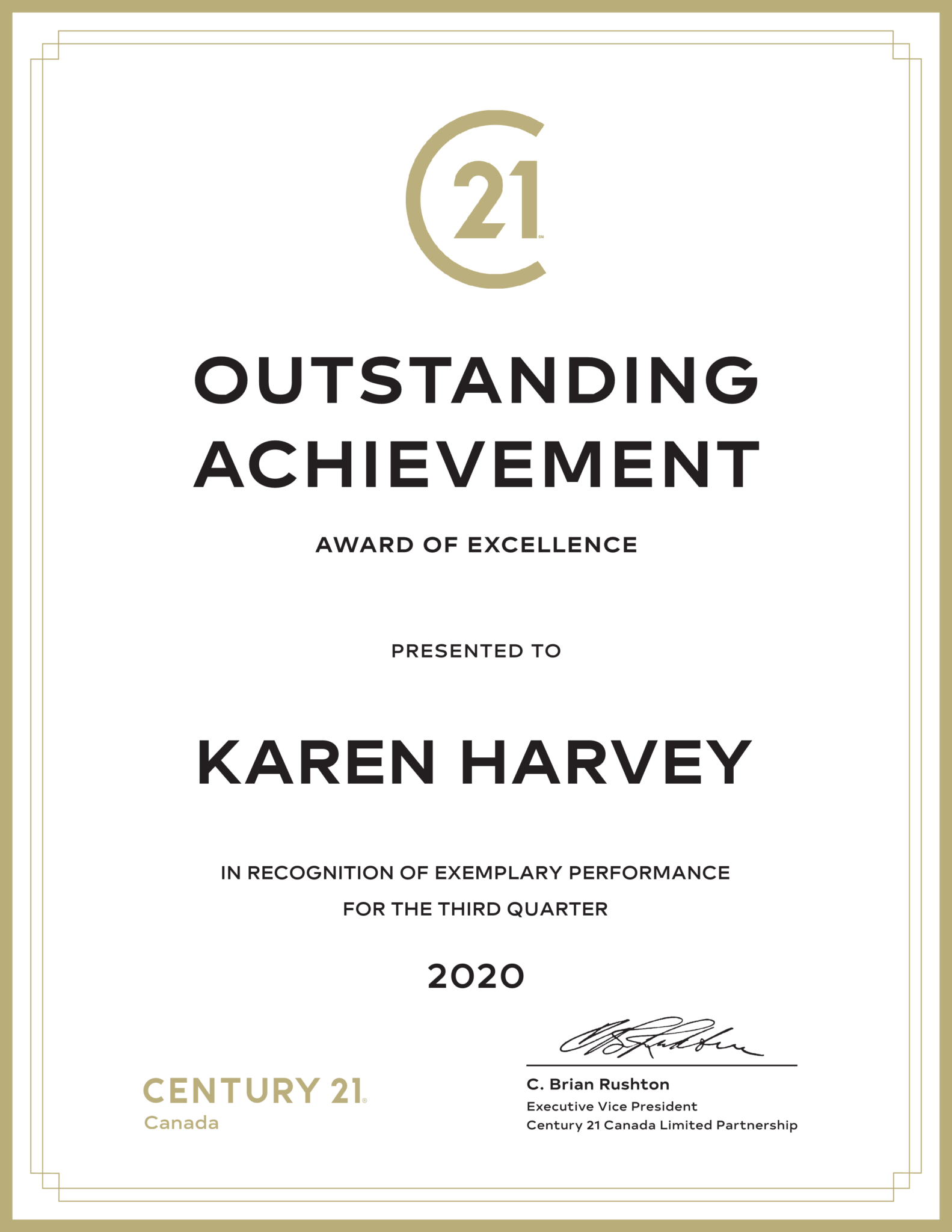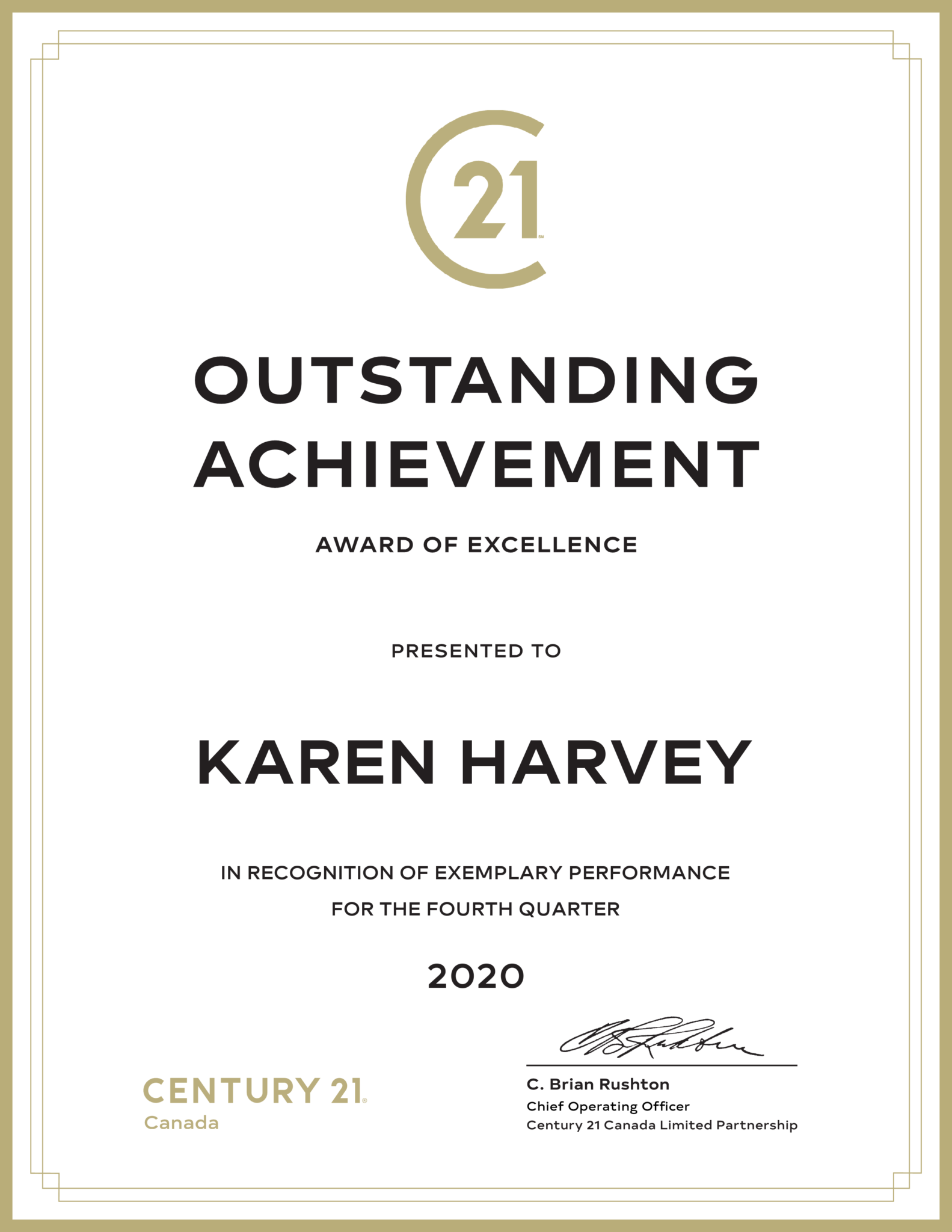 OUTSTANDING ACHIEVEMENT
1st, 2nd, 3rd, and 4th Quarters – 2021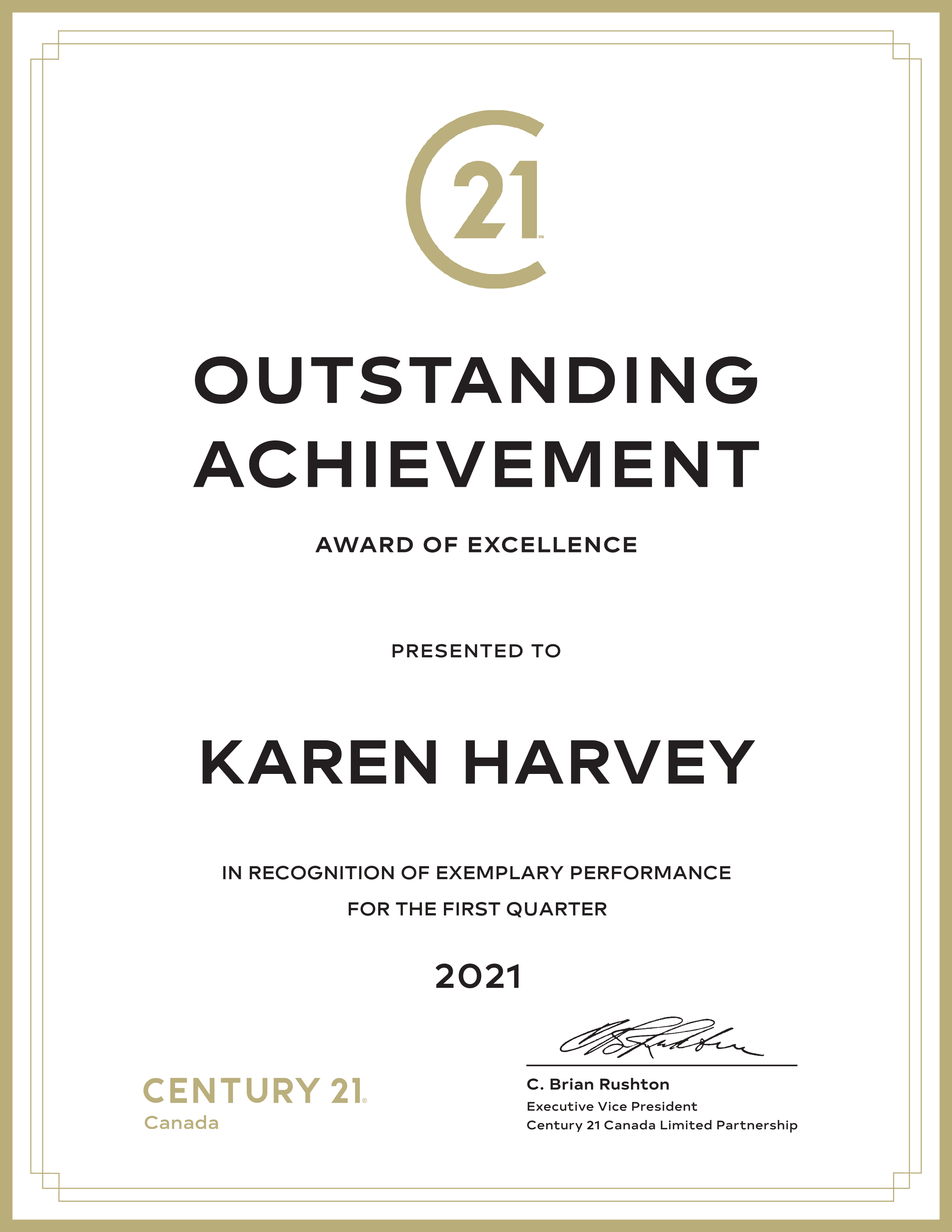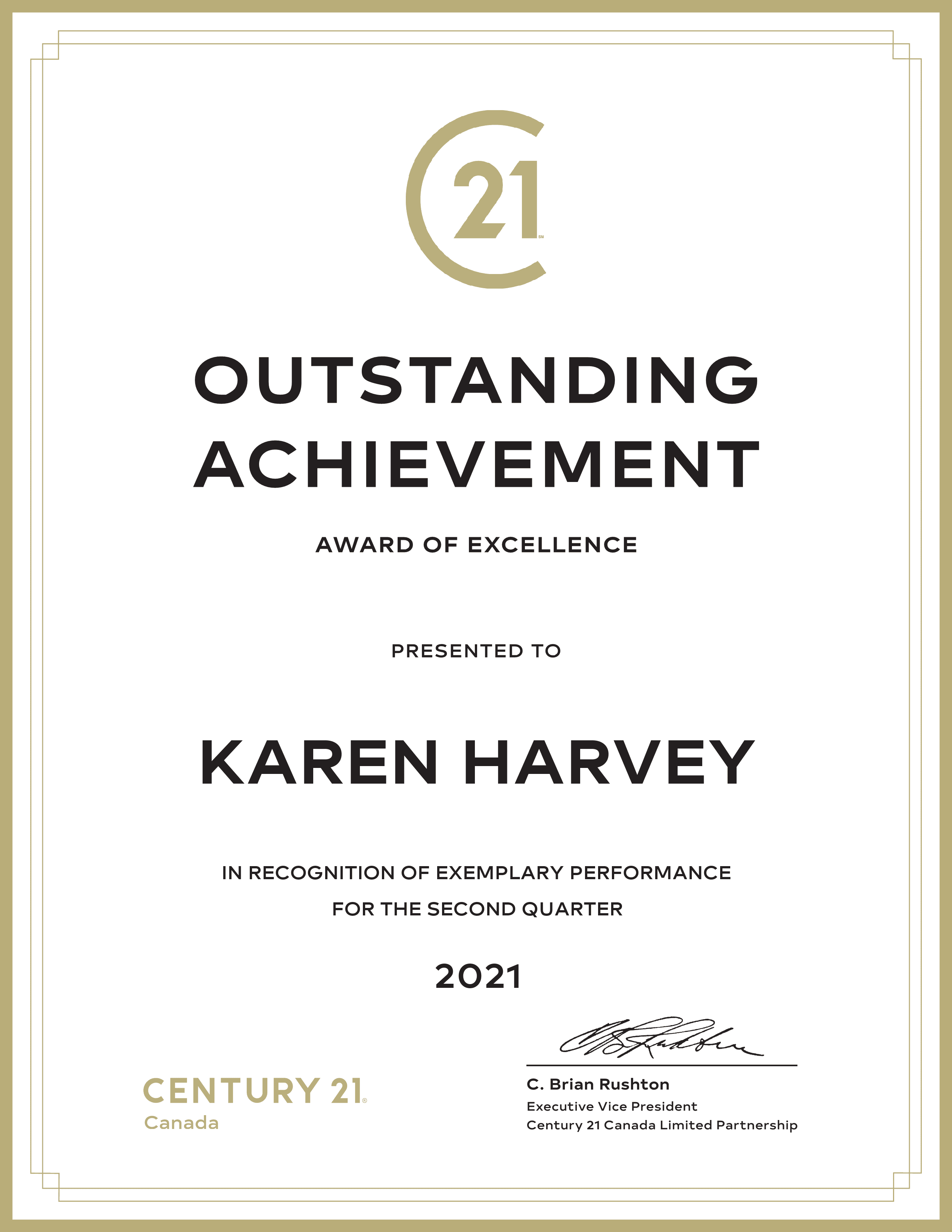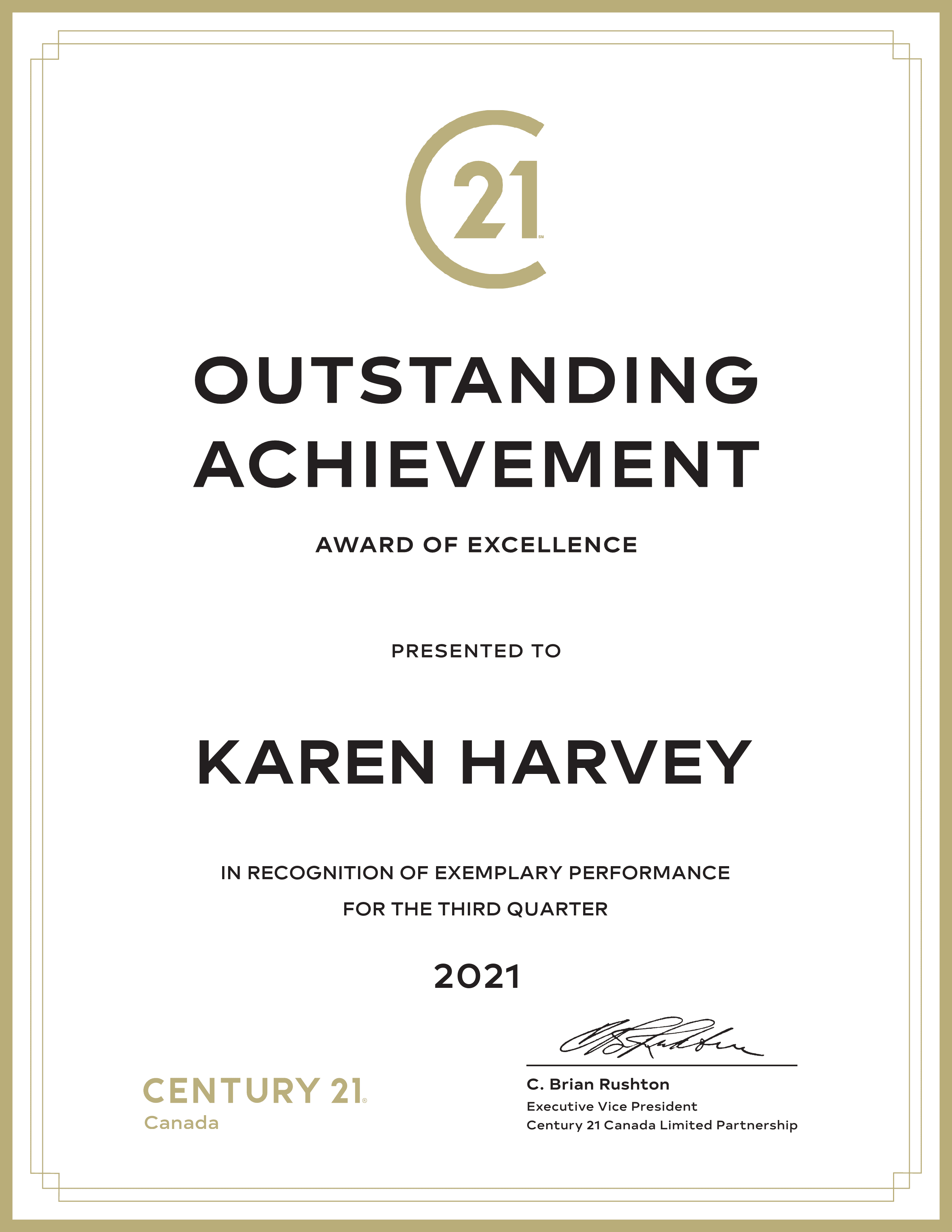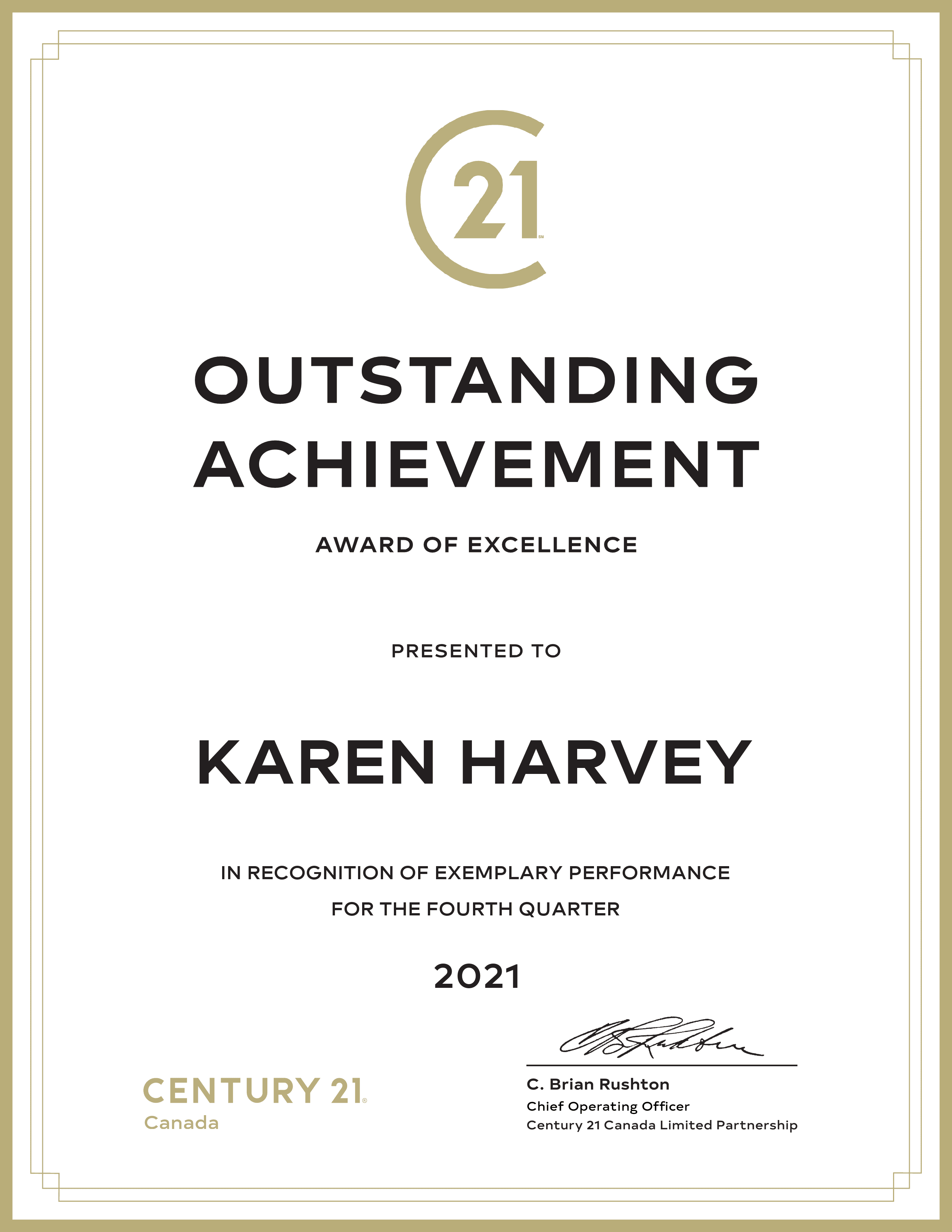 PACESETTER PLATINUM AWARD
January – June, 2021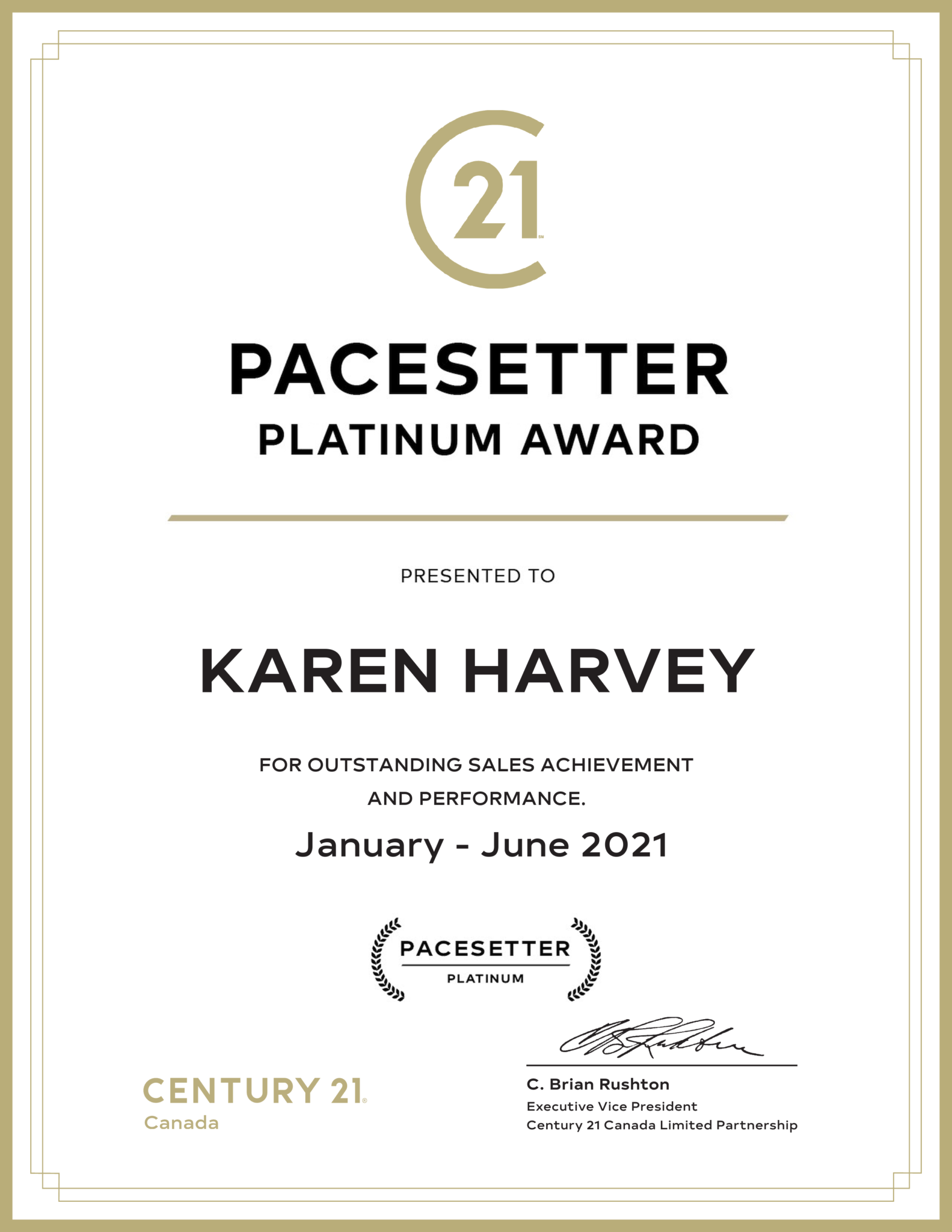 OUTSTANDING ACHIEVEMENT
1st, 2nd, and 3rd Quarters – 2022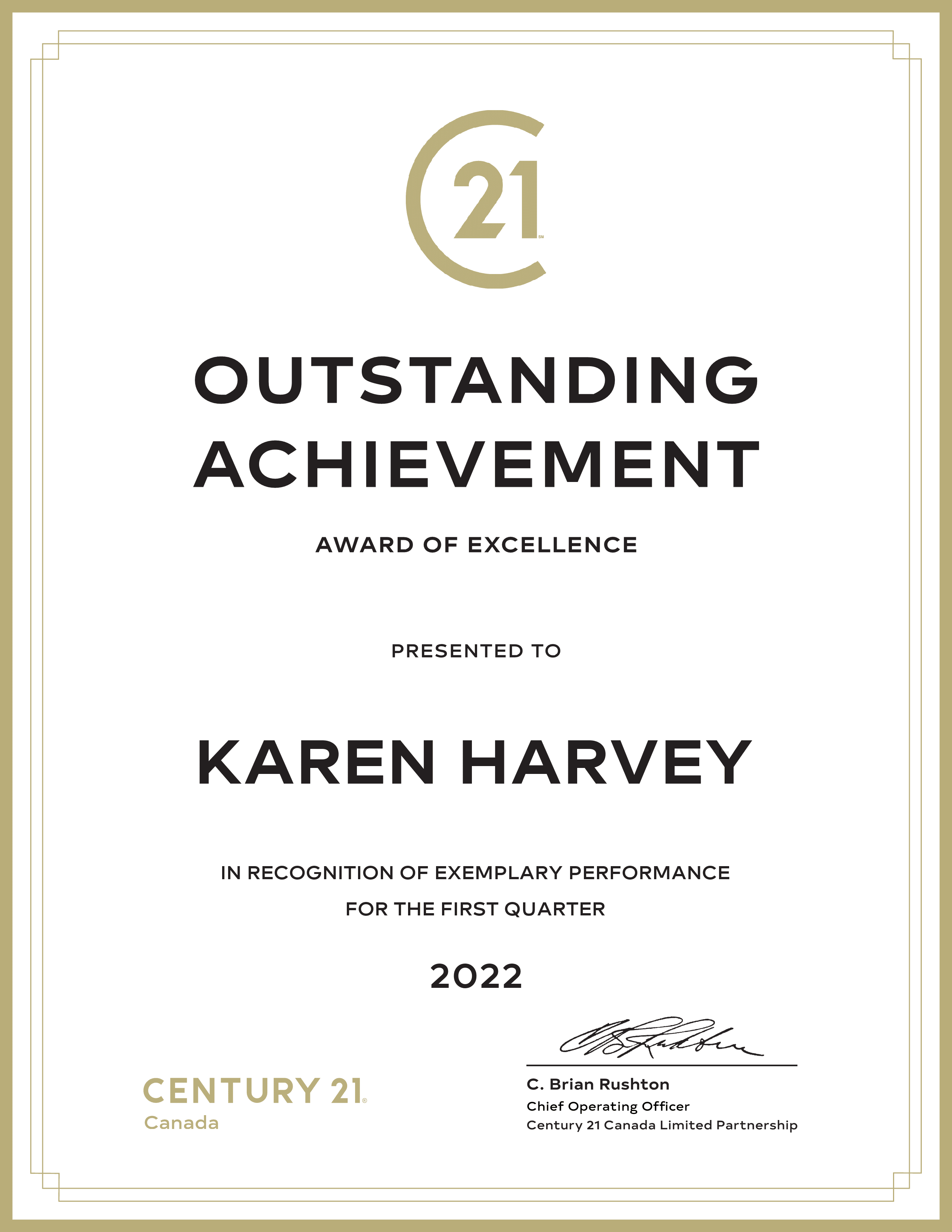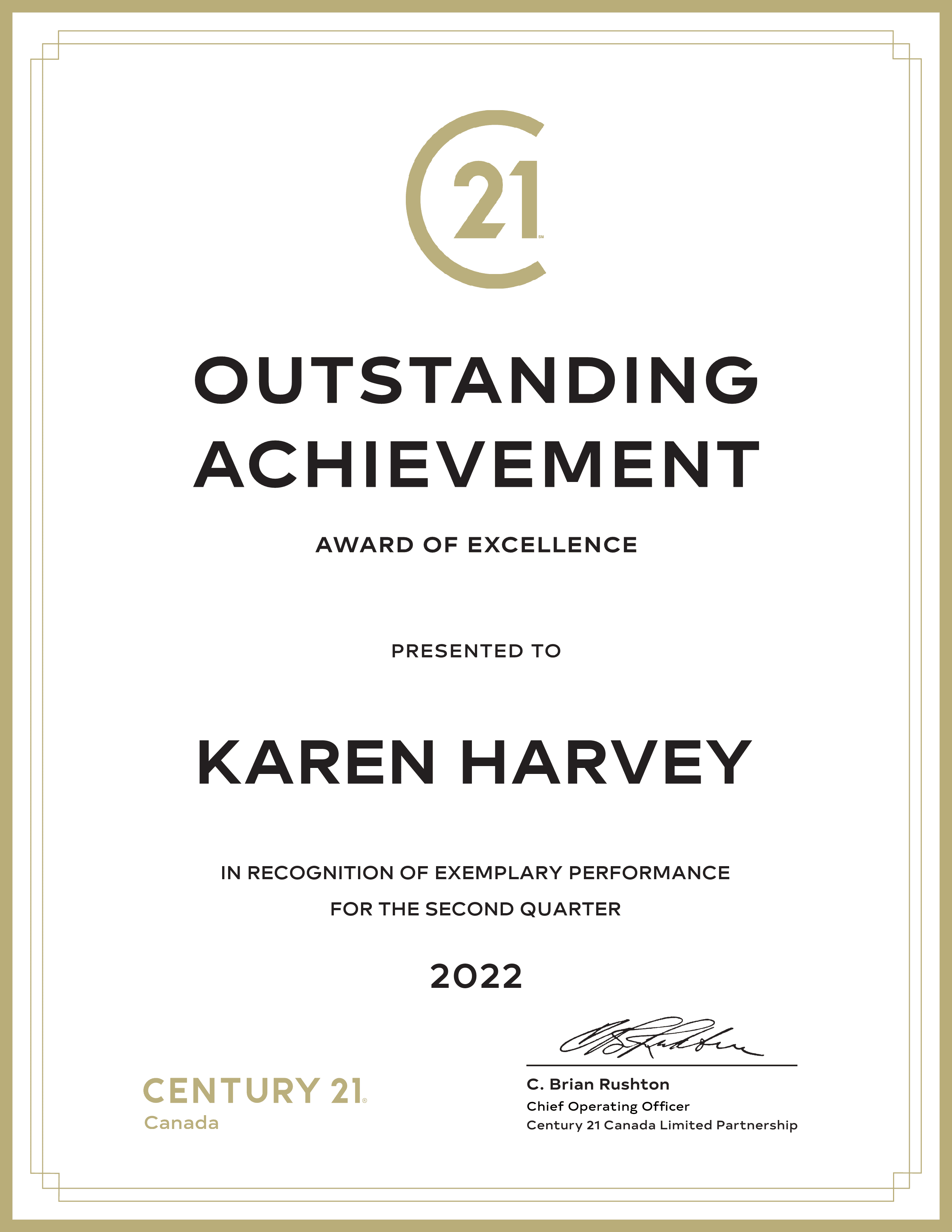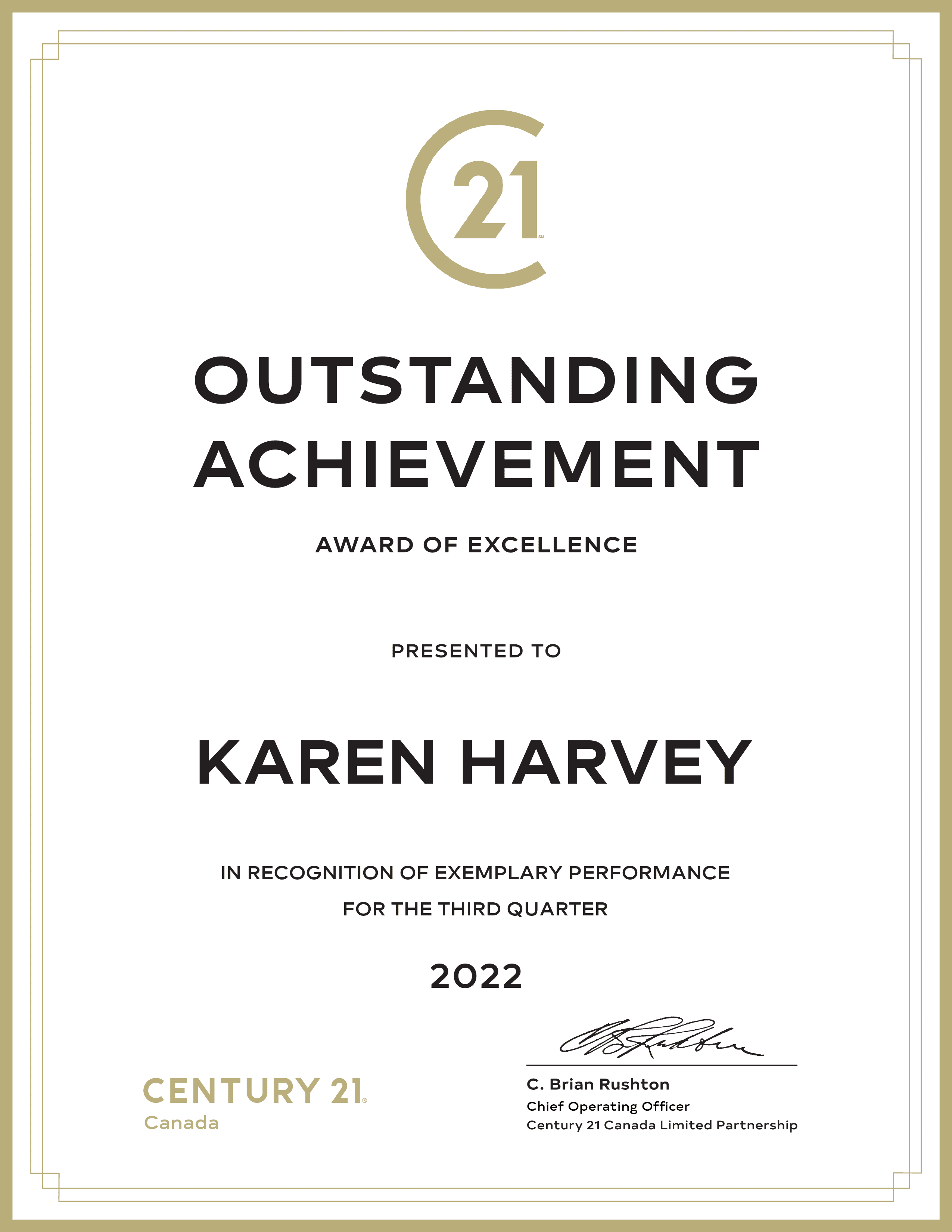 PACESETTER PLATINUM AWARD
January – June, 2022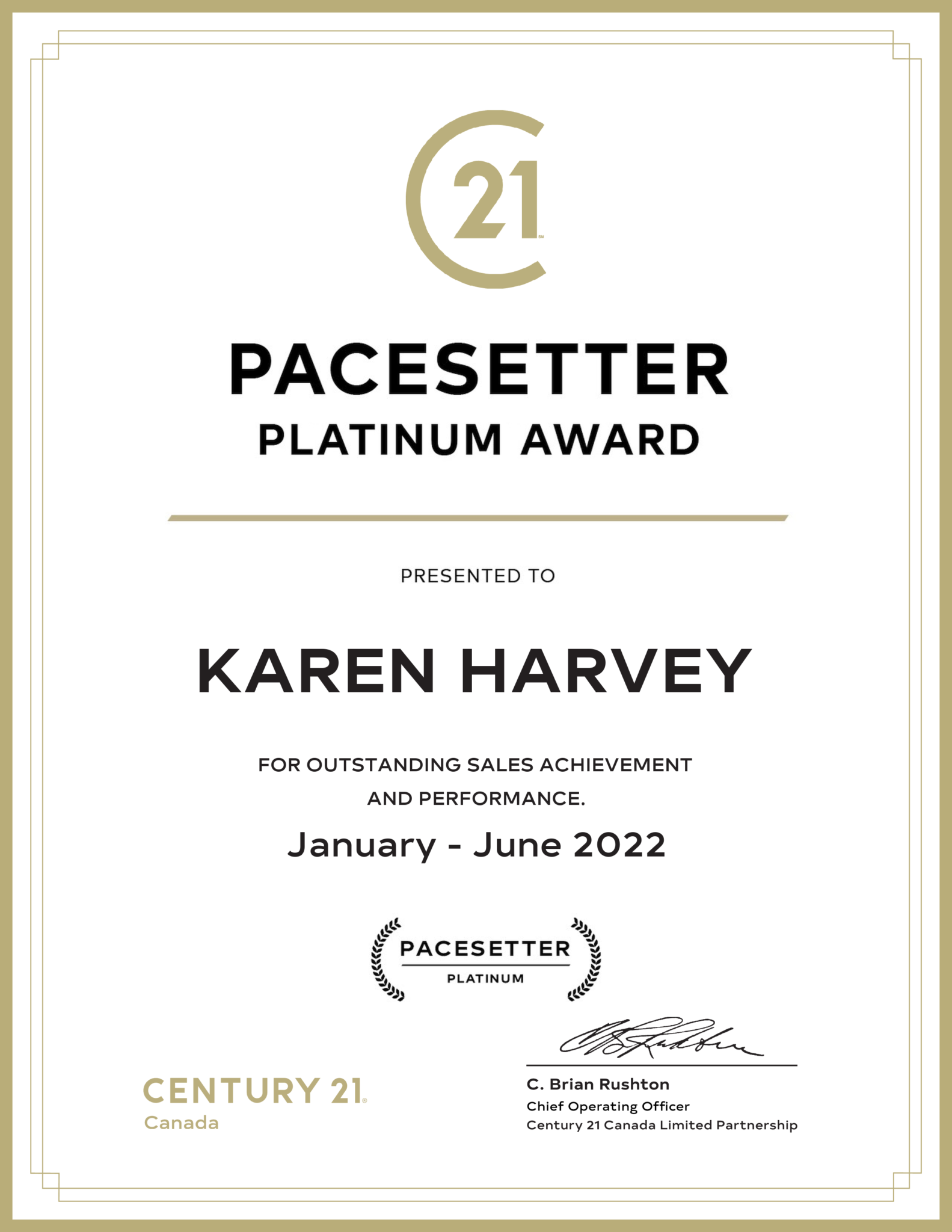 Licensed to sell real estate in 2009 and completing her Broker license in 2012, Karen's exceptional analytics skills as a CPA allows her to go above & beyond for her clients – with an honest, experienced, hands on and analytical approach to buying and selling real estate. Karen has closed over 250 successful real estate transactions, ensuring her clients' best interests are represented throughout every purchase or sale. Karen has received numerous awards for her industry achievements over the past decade as a member of a top producing team in Canada, and through the success of her own real estate business with CENTURY 21® earning Master Level production awards and the prestigious Centurion® Producer in 2017, 2020, and 2021.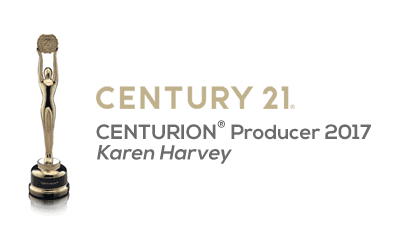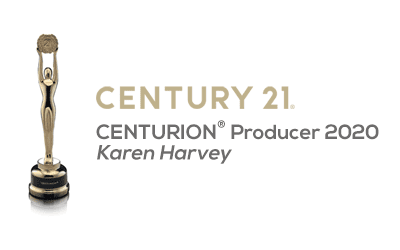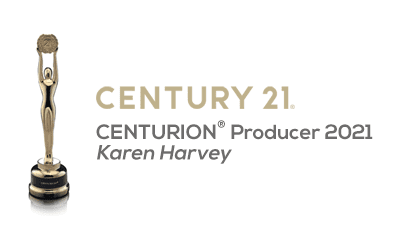 Karen provides valuable insight into market conditions, offers pricing strategies to optimize value for her clients, and boasts a proven track record of success – leading to repeat & referral business time and time again! Get more for your real estate with Karen Harvey, a proven leader with an award-winning approach.
Karen Harvey, CPA, CGA, Broker
Cell: (416) 817-8627
Office: (905) 471-2121
karen@karenharveyrealestate.com
CENTURY 21® Leading Edge Realty Inc., Brokerage*
165 Main Street N., Markham, ON, L3P 1Y2
*Independently owned & operated.
Subscribe for Updates
Please provide your email to receive new listings, resources, and relevant updates via email. You can also find Karen on Facebook & Instagram to get the latest updates.
VIP Access
Be among the first to know when Karen's listings hit the market.
News & Updates
Get the latest updates via email to stay informed.
Resources
Get the latest information & tips for buyers & sellers.
Area Listings
Stay up to date on the latest area listings & activity.